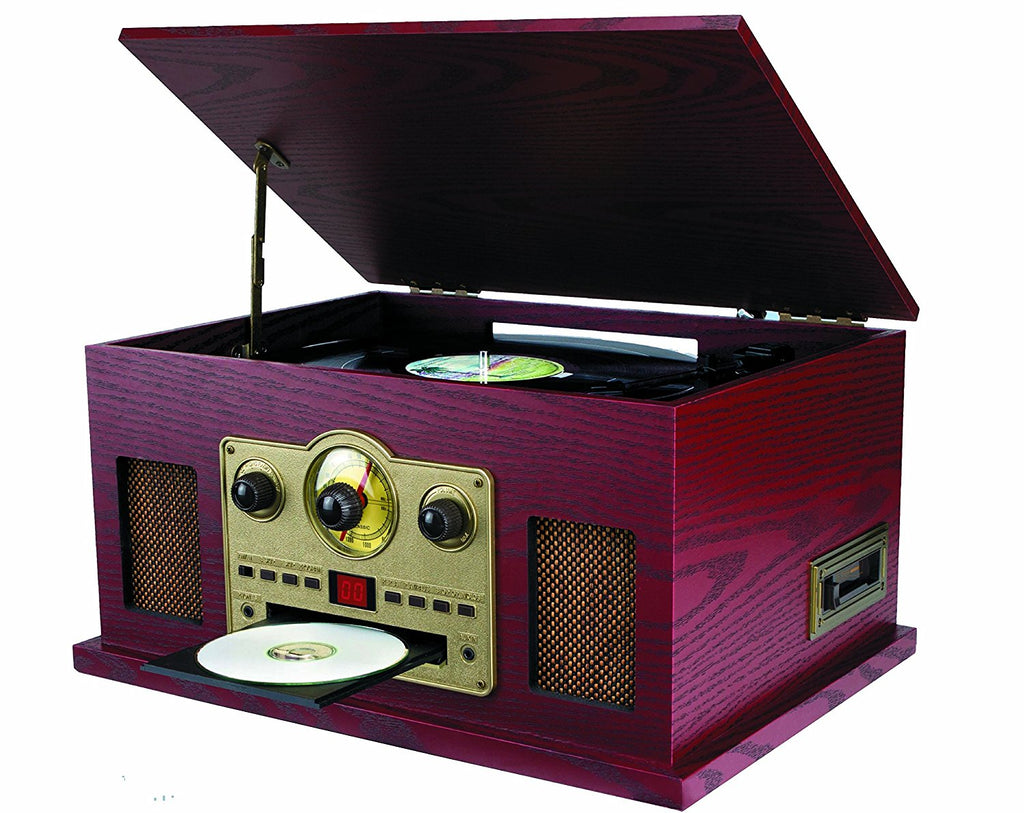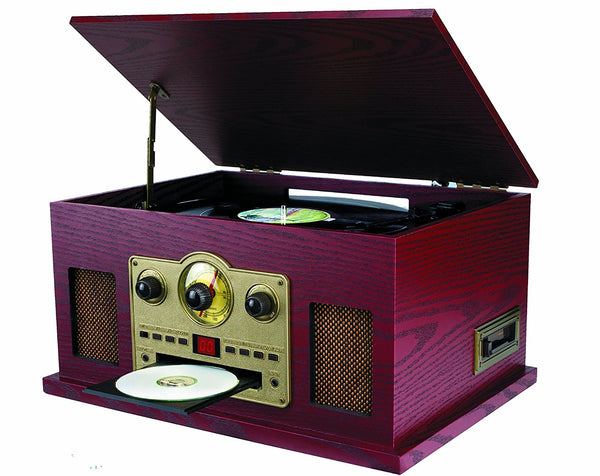 This Sylvania 5-in-1 Nostalgic Turntable turns back time and brings the present with it. You can enjoy your classic records, cassette tapes, CDs, the radio, and even use an aux cord to play music from your device.
Benefits
Sylvania 5-in 1 Turntable Record Player with High Quality Speakers so you can enjoy all the sound quality your records have to offer
Play your favorite Records + CDs, Tape Cassettes and over the air Radio stations with nostalgic feelings
Aux-Input to connect any Audio Device to further your listening experience
Elegant Nostalgic Wood Finish with oversized classic dial
Description
Sylvania's Turntable player is the definition of versatile. From playing your classic records, to connecting to your iPhone and everything in between, this player does it all. The Nostalgic style player will play all of your records on the amazing built in speaker. There is also a CD player, cassette player and radio built in for your listening pleasure. Not only that but there is an Aux Input which will allow you to connect any audio device and play the music on the speakers. The over-sized dial adds to the vintage look and feel of the turntable. Combining classic retro style and modern technology, this piece is a gem.
Tech specs
Power Requirements: AC 120V ~ 60Hz
Power Consumption: 20 W
Impedance of Speakers: 2 x 2W; 4 Ohm
Frequency range (FM): 88MHz ~ 108MHz
Frequency range (AM): 530 kHz to 1710 kHz
Track System: 4 track, stereo
Tape Speed: 4.8 cm/sec
Frequency Response: 100-8000Hz
Signal-to-Noise Ratio: 35dB
Motor: DC servo motor
Drive System: Belt Drive
Speed: 33-1/3 rpm, 45 rpm, 78 rpm
Box Contents
Sylvania 5-in-1 Nostalgic Turntable
45rpm Adapter
Stylus
User Manual