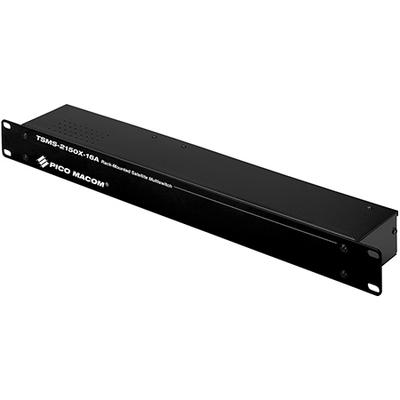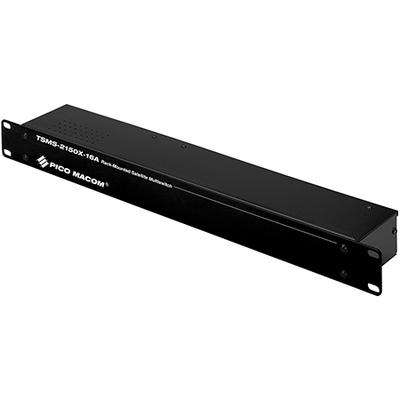 DESCRIPTION
Send satellite signal from a Dual LNB DIRECTV dish to up to 16 receivers. The advanced circuit design incorporates a pin diode matrix to route any of the inputs to any of the outputs by utilizing the 13-14V Right-Circular/Vertical or 17-18V Left-Circular/Horizontal switching control supplied by the satellite receivers, thus eliminating digital artifacts that result from mechanical relay switching. To compensate for insertion loss, both versions use separate built-in amplifiers for satellite and/or VHF/UHF signals. The TSMS-2150X series, used with the external power supply, will supply power to the LNBs reducing heat build up within the multiswitch and prolong the life of the unit.
SPECIFICATIONS
Wide frequency range 950~2150MHz (TSMS-2150X-16A)
 3 Import simple interface design provides 2 satellite polarity inputs and 16 outputs, for quick installation (TSMS-2150X-16A)
 PIN diode matrix reduces polarity transfer time and digital artifacts, providing consistent picture quality
 500 mA voltage power pass-through reduces cost by providing satellite receiver path for LNB power
 Built-in amplifier compensates for insertion losses, reducing need of external amplification
 External UL approved power supply reduces heat buildup, thus increasing unit life
 RHCP Switching Voltage 13/14VDC
 LHCP Switching Voltage 17/18VDC
 LNB Current Capacity 500mA
 Bandwidth: 950-1750MHz / 1750-2150MHz
 Insertion Loss: 950-1750MHz 5db / 1750-2150MHz 8db
 Isolation (input-input) 25dB
 Isolation (output-output) 25dB
 Dimensions 19" (L) x 2.87" (D)x 1.75" (H)
 Weight TSMS-2150X-16A 5.1 lbs.