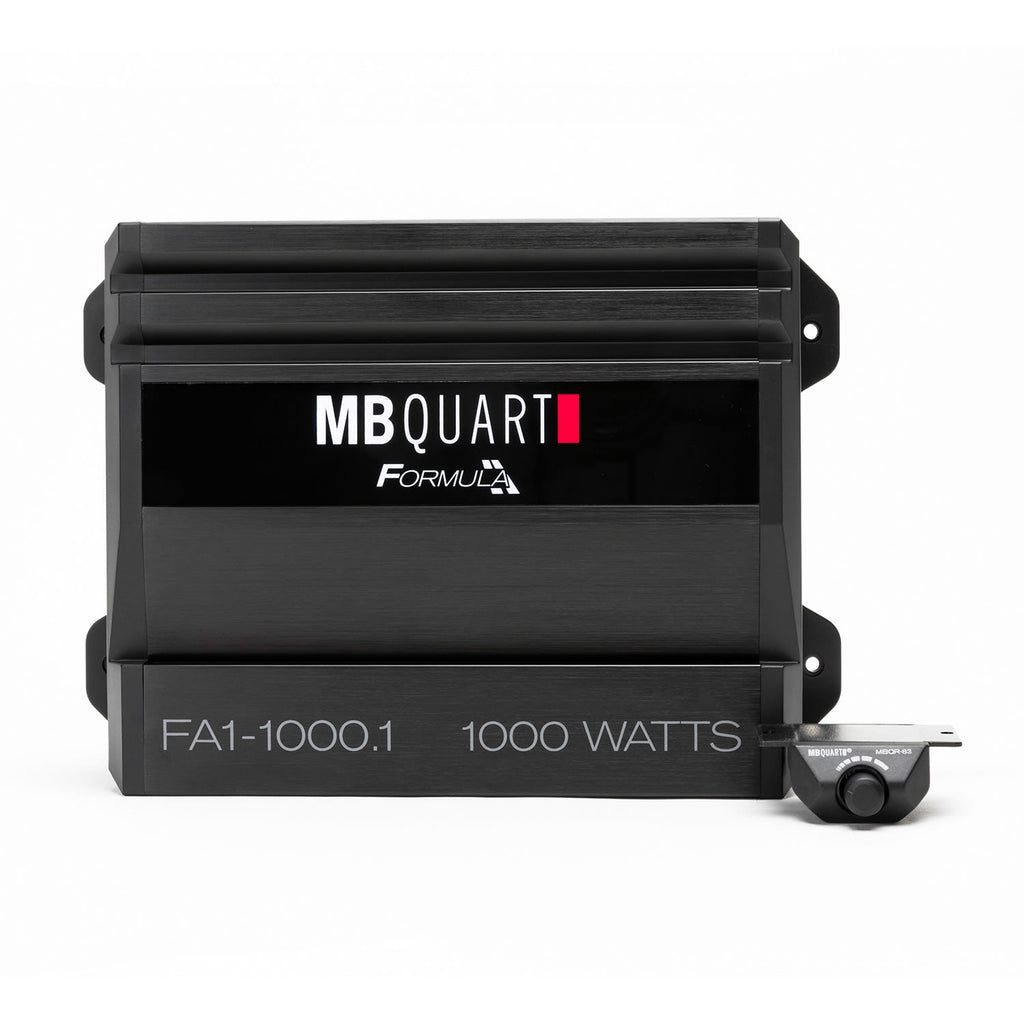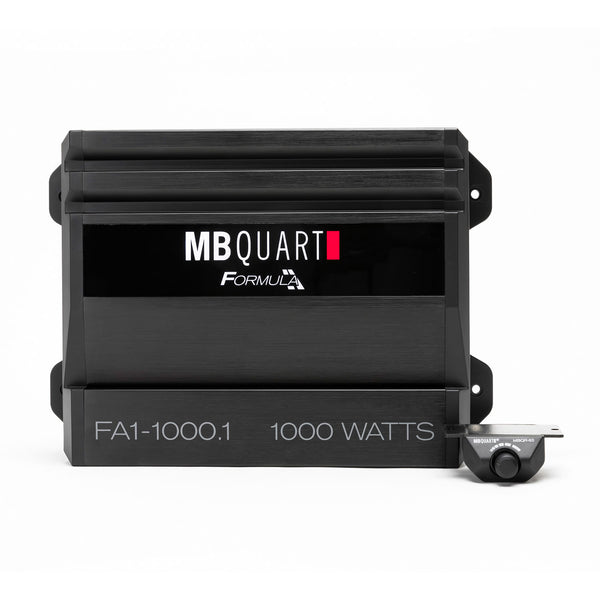 DESCRIPTION
MB Quart Formula series mono subwoofer car audio amplifier featuring innovative sound quality and power technology. The FA1-1000.1 is a 1000 watt 1 ohm stable car audio amplifier. Formula amplifiers feature DC Sensing to allow any amplifier to be easy integrated into an OEM system by simply adapting a RCA cable from the source unit. Bass remote is included.
Low Noise Preamplifier Circuit. Q-Stasis Pre Amplifier Stage: Maximum low voltage signal from the source unit comes into the amplifier circuit with minimal distortion.
Power Supply. Rugged MOSFET Pulse Width Modulation power supply: Allows amplifier to product efficient power without taxing the vehicle electrical system.
Output Connections. Heavy duty connections allow for secure electrical signal to pass into wiring and resist erosion which will add longevity to the amplifier.




SPECIFICATIONS
Weight 7.55 lbs
 Amp Class: Class Q1 Mono (Class D)
 Amp Total Channels: Mono
 Amp Max Power (watts) : 1000
 Amp Power @ 1 Ohm (ch x watts): 1 x 1000
 Amp Power @ 2 Ohms (ch x watts): 1 x 500
 Amp Power @ 4 Ohms (ch x watts): 1 x 250
 Amp Crossover: Electronic
 Amp Variable High Pass Crossover 12dB per Octave: Switched
 Amp Bass Boost : 0-12dB
 Amp Variable Voltage: 0.02-9V
 Amp Signal to Noise: >90dB
 Amp Frequency Response: 15Hz-250KHz
 Amp Total Harmonic Distortion (THD): < 0.1%
 Amp Speaker Level Audio Inputs: RCA Jack
 Amp Power Terminal 12v/GND: 4 AWG
 Amp Speaker Terminal Wire Gauge: 12 AWG
 Amp Fusing: 40A x 2