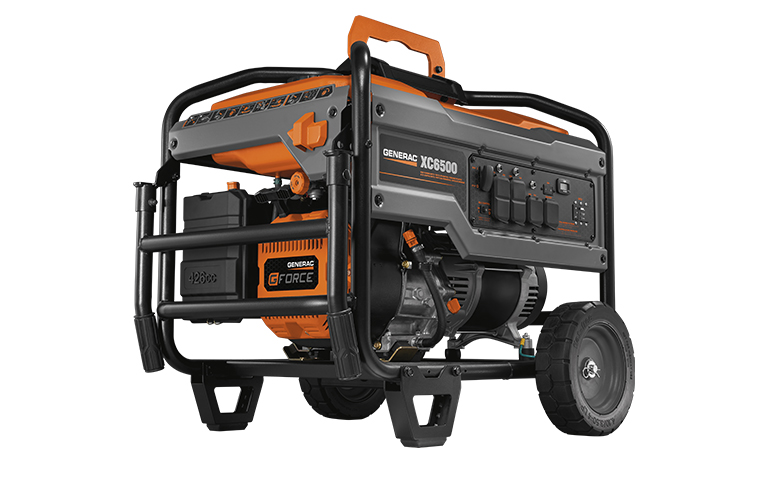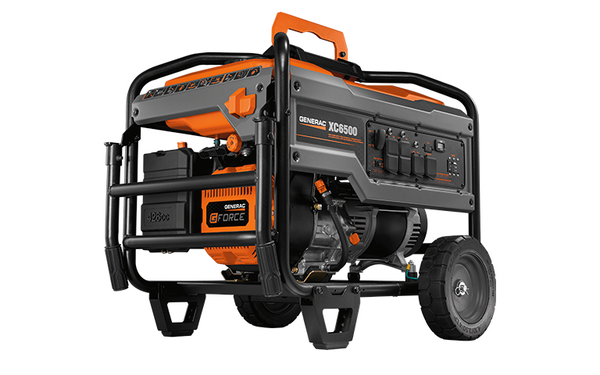 DESCRIPTION
XC Professional Series Portable Generators are engineered specifically for contractors and construction sites. Featuring Generac's G-Force engine - the only pressure-lubed engine designed exclusively for generator use, providing reliable and durable best-in-class power on any jobsite. Generac G-FORCE ENGINE Features Best-in-Class power with full pressure lubrication and is optimized for generator use.

X frame - fully wrapped heavy duty 12-Gauge steel tube provides rugged durability and protects the generator and fuel tank from damage. Steel lifting pocket designed for easier lifting and transportation on jobsites by crane or forklift. Impact resistant fuel tank design recessed tank edges reduce damage when transported by forklift.
SPECIFICATIONS
Full panel GFCI protection OSHA compliant with covered outlets to protect from the elements
 Easy access to all routine maintenance areas including filters and spark plugs; no need to remove fuel tank or side panels
 Never flat wheels with steel hubs makes movement around the jobsite easy and efficient
 Protected axle integrated into frame, shields from impact during transport
 Welded steel feet reinforced for superior durability
 Fold-down locking handles features one-handed locking mechanism for easy storage
 Engraving plate allows unit to be tagged / cataloged for use in contractor and rental fleets
 Oversized glove-ready touchpoints fuel valve, choke lever and rocker switches allow easy operation while wearing gloves
 Truepower technology provides clean, smooth operation of sensitive electronics, tools and appliances
 Idle control reduces noises and conserves fuel for extended run-times
 Recoil/pull start
 Recommended oil - 10W-30 / SAE 30
 Portable generator designed specifically for contractors and construction sites
 Heavy-duty 12-gauge steel tube frame
 Steel lifting pocket included
 Idle control leads to fuel conservation and reduced noise
 Automatic low oil shutdown system
 Fuel Tank Capacity: 8.5 gal.
 Weight: 243 lbs.
 Overall Height: 32-1/2"
 Overall Width: 34-3/10"
 Overall Depth: 28-3/5"
 Surge Power: 8125 W
 Rated Power: 6500 W
 Voltage Output: 120 V/240 V
 Engine Displacement: 426 CC
 Amperage: 54.2/27 Amps
 Run Time (50% Load): 14 hrs.