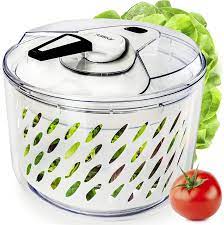 DESCRIPTION
TRANSFORM YOUR SALAD from a limp lifeless prologue to dinner, to a fresh and full-bodied main event. Fullstar Salad Spinner washes and removes water from greens to keep them crisp and enhance flavor.
EASY OPERATION with just one hand. Smooth rotating handle allows for an efficient and fast way to prepare salads whilst cleaning fruit and vegetables from any dirt.
CLEAR BOWL AND LID are ideal for serving salad straight to the table. Made of sturdy ABS plastic, it withstands impacts to provide years of fresh, healthy salads. Lid comes apart for easy cleaning.
NON-SKID BASE enhances leverage and stability during use. Lockable 5.5L basket doubles as a colander and makes the Fullstar Salad Spinner travel-friendly for pitch-ins and picnics.
FULLY COMPLIANT with FDA and LFGB standards. Stainless steel and impact-resistant plastic are non-toxic and BPA free. Bowl and basket are top-rack dishwasher safe.
SPECIFICATIONS
Large 5.5L Bowl & Basket. Doubles as colander and serving bowl
 Stop button for quick braking. Allows you to stop spinner in an instant
 Smooth action ratchet handle. The ratchet handle gives you more power with less effort
 Simple and easy to clean
 Clear lid allows you to see inside and comes apart for easy cleaning