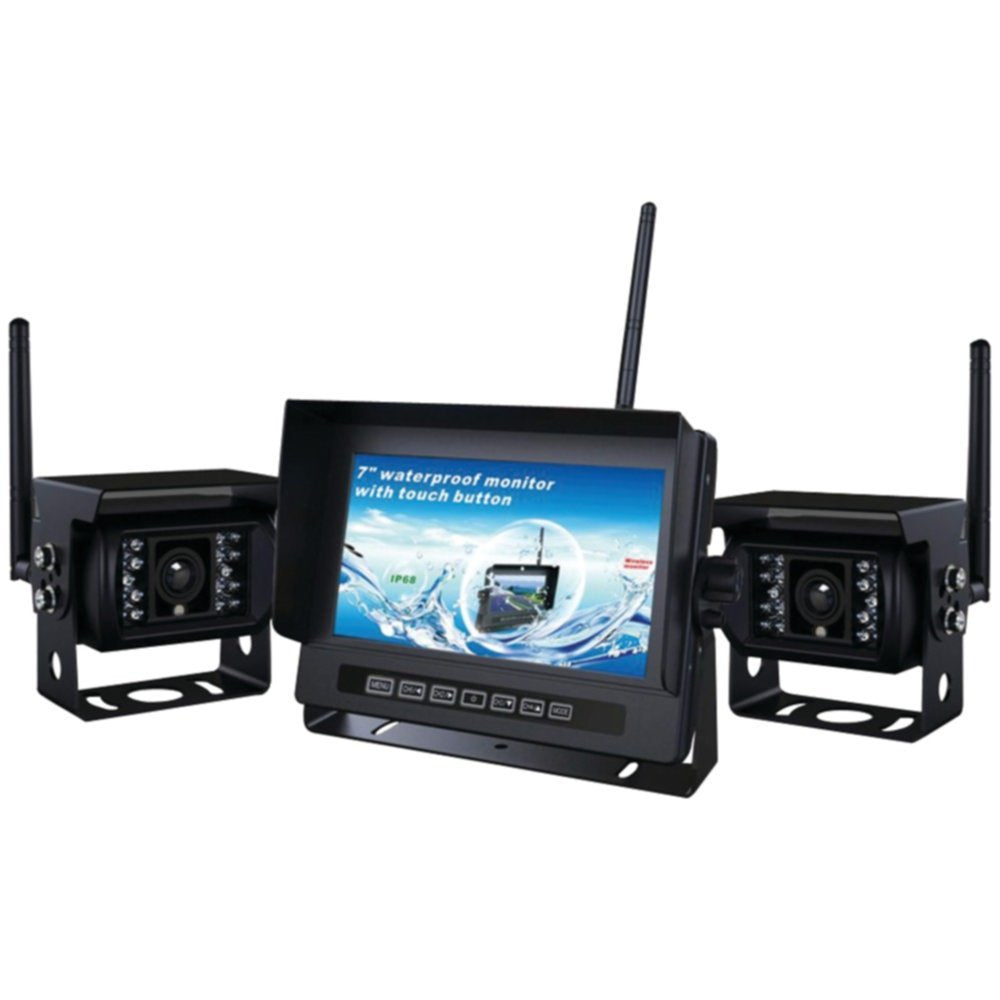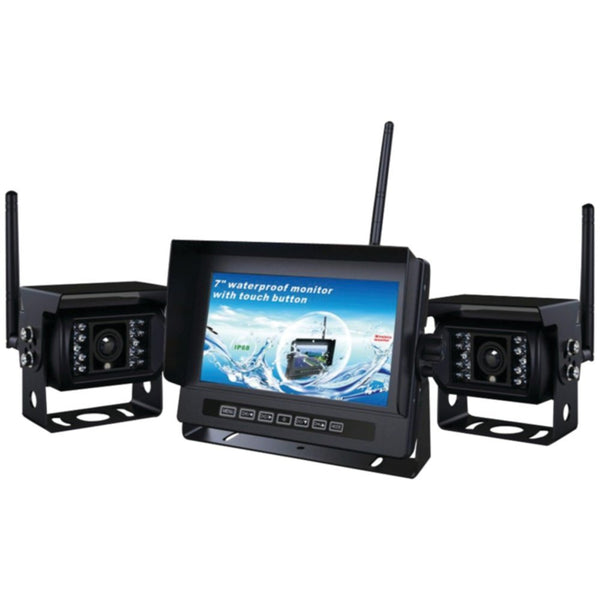 DESCRIPTION
The SV-2002.BRV is a wireless camera and monitor system but is a dual channel system so it comes with two wireless cameras. Both the cameras and monitor are fitted with an FM transmitter and receiver to allow the video signal to be sent in a wireless RF signal instead of having to run a long length of RCA video cable from the front of the vehicle to the back of the vehicle and wasting hours on installation times.
The SV-2002.BRV system send an RF wireless signal, so the transmitter and receiver do not need to be tied into the same power source. The installation is done just like any other camera nd monitor installation only you don't have to run a video cable. The receiver (monitor) is tied into the ignition circuit of the vehicle and the transmitters (cameras) are tied into the reverse and ignition circuits of the vehicle. When the vehicle is shifted into reverse, the rear camera transmitter will begin sending the wireless signal to the receiver and the video signal should come on about a second later. When the vehicle is shifted back into driver, the primary camera transmitter will activate. This is the perfect solution for installers who need to add a back up camera system to a long trailer or motor home where having the right length of video cable can make or break the installation.
The transmitters (cameras) are both a 130° CCD hanging style camera with night vision to give the driver the best illumination during nighttime driving. The hanging style U-shape mounting bracket allows the cameras to be swiveled up and down to give the driver a better viewing angle and a built-in microphone for audio recording. The receiver (monitor) is a 7" high definition LCD screen that comes with a U-shape bracket for mounting on the dashboard of the vehicle. The monitor will also give the driver a wide variety of functions such as multiple language setup, brightness, contrast and dimming settings, image rotation and volume adjustment for the built-in speaker.
SPECIFCATIONS
Two 130 CCD waterproof color cameras
 Freq transmission range: 400ft
 Normal or reverse image
 Parking assist lines
 IR night vision
 Built-in microphone for audio connection
 7" full color digital LCD color monitor
 Picture may be adjusted for horizontal, vertical, mirror & normal image viewing
 Multi-language selection
 Automatic backlighting & light control
 1 video inpu
 1 audio input