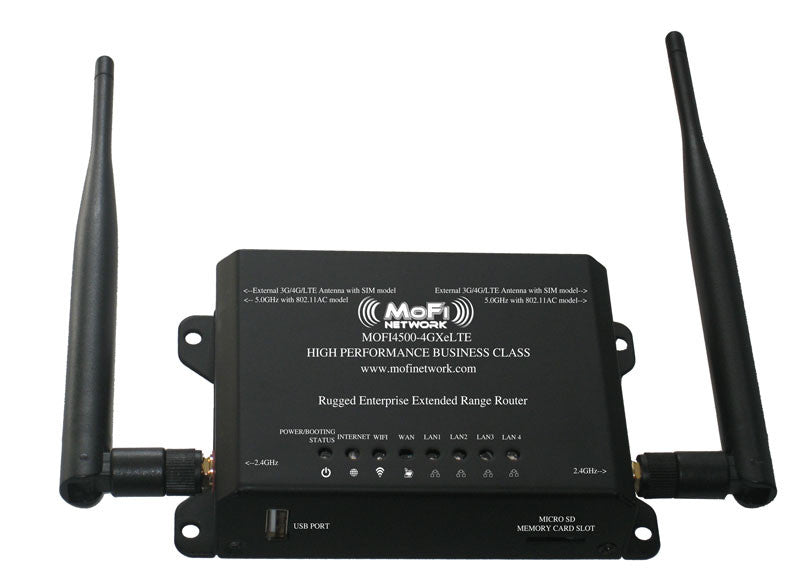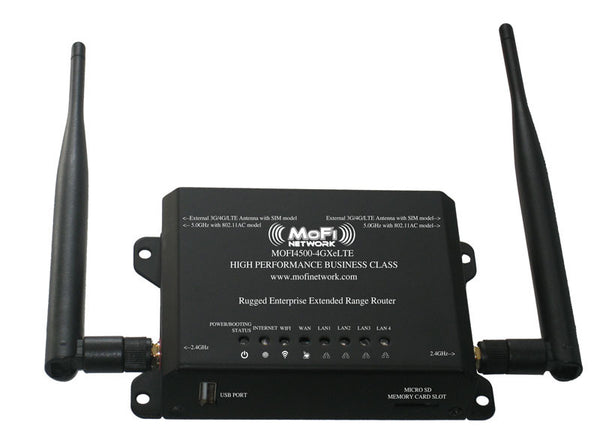 Plug your USB Broadband Modem into our Wireless 3G 4G LTE / WiFi Router to Share Hi Speed Internet Connection with Multiple Computers - Wirelessly


Super high performance mission critical enterprise metal rugged router that can be used as a standard high
performance full N 300Mb/s router for use with any Cable/DSL/Satellite box or can use virtually any
3G/4G/LTE USB modem (portable internet). Various models are available including a built in SIM card slot
option for all providers including AT&T, Verizon, T-Mobile, Rogers, Bell, Telus and more. The MOFI4500-
4GXeLTE is a full pledge business class performance router with full VPN server, fail over protection and
much more advance features tested and integrated for no extra cost to use these services. Now also includes
both Android & iPhone USB tethering ability that are pre installed without needed a special firmware.
For home users, it does everything you would need and better yet, it is all plug and play. Put your 4G/LTE
modem in the router and it auto detects your provider settings then optimizes itself for the best speed and
performance using an exclusive advanced algorithm designed exclusively with our expert software team. If you
play video games such as X-Box or PlayStation, the MOFI has optimized coding to ensure the best online
experience possible and include continues tests to ensure compatibility with all devices.
The SIM Card slot models available for most providers including Verzion, AT&T, T-Mobile, Rogers, Bell,
Telus and much more.
MAIN FEATURES
• Tri function as 3G/4G/LTE mobile broadband router and 4-port wireless-N up to 300Mb/s high
performance dual channel wifi speeds as well as build in wireless repeater functions.
• Optional SIM Card Slot model that supports various providers including Verizon, AT&T, T-Mobile,
Bell, Rogers, Telus, and much more
• Leaders in compatibility with 3G/4G/LTE internet modems around the world
• Easy setup wizard to configure router and wifi password with most advanced WPA2-PSK security
• Wall mountable rugged metal router great for RV's, Buses, Taxi Cabs & many other applications
• Remote Central Management Interface
• Wireless Bride/Repeater mode to extend your wireless range and/or have the ability to use an ethernet
connection with any wifi signal including those from a hotspot device
• Mofi to Mofi router mode to allow multiple Mofi routers to be connected to form a high speed well wifi
connected network
• Ability to assign a static public IP address for any device that requires one (many providers do not give
you a public IP address anymore and you will need this for your DVR or anything that you need a direct
connection for)
• Geo- location redirect service for Netflix, Hulu and other service you might be blocked from the USA
version with our Super DNS service
• Share the internet with one internet 3G/4G/LTE stick with up to 255 devices in less than a minute
• Android & iPhone USB Tethering Compatible (Plug in your Android phone via USB port to enable
USB Tethering)
• Up to 7 Unique SSID/Networks with full control including Guest accounts
• MOFI Ad Blocker/Parental control built in to prevent annoying pop ups and increase the speed of your
online experience. Block any website at the click of a button such as facebook or anything you wish to
block
• Full bandwidth monitoring where you can view the usage of every device connected and have ability to
limit bandwidth if required
• Parental screen to set automatic limit or access by time on any device connected
• Video games optimized mode for best online gaming experience including auto port forwarding for all
Xbox, Playstation and more
• Unique Auto Port forwarding feature where port forwarding can be done without having to supply an IP
address (great for DVR's)
• Super Fast (wireless speeds up to 300Mb/s full N speeds) up to 1000 ft range
• Virtual Private Network (VPN) + OPENSWAN IPSec and OpenVPN Support
• Multi-Wan and Load Balancing with fail safe (if one connection fails, can set to auto connect to another)
• WiFi Fail Over (great for boater or anyone that gets free wifi and only use 4G/LTE when not in range)
• Fail Safe Boot Loader than can restore router on bad flash or failed firmware update
• USB and Hard Drive Storage Server via SAMBA (share your files via a usb stick or hard drive)
• USB Print Server to allow a regular USB inkjet printer become a network printer
• Full Advance Quality of Service (QOS Support)
• Detachable 5dBi antennas allowing flexible gain performance antennas
• Dynamic DNS full support including customized option
• True DMZ not Pseudo DMZ Zone
• True IP-Pass-Through
• VPN Services & Termination - Device to Cisco, Linxu, Juniper IPSec, L2TP & more
• Standalone VPN & DHCP Server
• Front SD Memory Card Slot for extra storage
• Free Toll Free Technical Support and many more features included that is not listed here.