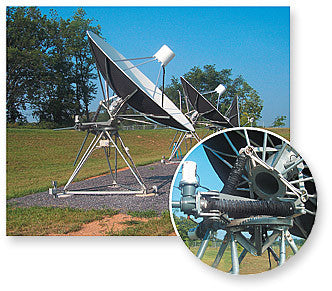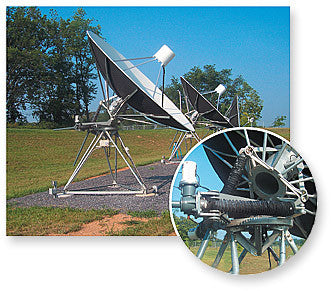 NAVIGATOR 45-III STEERABLE SATELLITE ANTENNA
OVERVIEW

Since 1984 SSE has produced a cost effective, three axis steerable interface for the popular Series 8345 4.5-meter satellite antenna. These systems have been designed for affordability, reliability and easy installation and maintenance. The Navigator 45-III provides complete domestic arc satellite access from any point in the U.S. with pointing accuracy and mechanical stability even where high-wind structural loading conditions are encountered. The Navigator 45-III can be installed as a turnkey new unit and is also available as bolt-on retrofit for existing Series 8345 Antennas.
REFLECTOR
The Series 8345 antenna system has long been the industry standard where 4.5-meter antennas are concerned. The reflector consists of twelve stretched steel panels attached to radial beam supports to provide a very accurate parabola. The surface tolerances inherent in the Series 8345 support both C and Ku-band in receive and TRANSMIT/UPLINK operations. Appropriate range-test information is available on request. The unique tripod mount provides a highly stable platform that supports our steerable interface.
STEERABLE INTERFACE MECHANICS
The Navigator 45-III Steerable Mount Interface provides all the equipment to upgrade a manual - existing or new - Series 8345 to motorized capability in azimuth, elevation and feed system for true, three-axis capability. The primary components consist of motorized elevation and azimuth machine screw actuators, a precision azimuth turntable bearing, a structural load frame for antenna mounting, structural attachment plates to evenly distribute the loads from the antenna to the mount legs and foundation and high strength hardware for assembly. Other features are:
High strength and stiffness provide pointing accuracy even in high wind conditions.
Designed for new antenna installation or bolt-on retrofit to existing antennas with no field drilling,
cutting or welding required.
Simple and easy installation with just two technicians.
Precision five-ton capacity (Joyce-Dayton) jackscrews ensure smooth and controlled azimuth and
elevation travel.
360° adjustability for initial azimuth travel; no pre-orienting necessary.
Galvanized and powder-coated finishes for corrosion protection.
Heavy-duty, 36 volt DC Motors and upgraded Controller for sustained output voltage to drive units.
No AC Power required at antenna site.