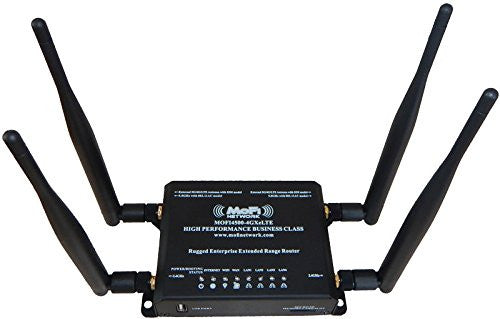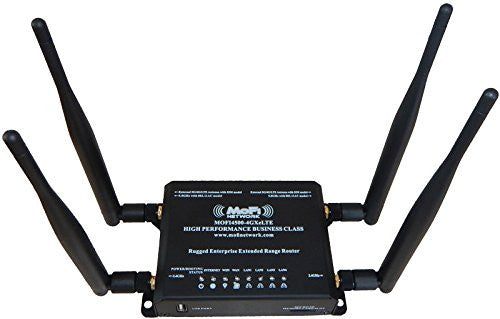 MOFI4500-4GXeLTE-SIM4 V3 4G/LTE Router with Included SIM Card Slot
 New version 3 (V3) model release 4th quarter 2020.

*New power regulator wider range of voltage input 12 - 36 volts (V2 12 - 18 volts)
*New GPIO control for usb bus.
*Updated boot loader (supports recovery via wifi)
*More robust shielding to minimize wifi interference
The SIM4 is the one you need for Canada, USA, UK and many other providers around the world and is currently the best router we offer.
SIM4 is will work with all bands for Verizon, T-Mobile, AT&T, Sprint, Rogers, Bell, Telus and many other providers.
For Sprint, we should get this model certified in by Aug 15 so if you are looking to use this on Sprint, check back then.
This is the top of the line and has a new technology called carrier aggregation and with this, it will get the fastest speeds possible, better than anything else we offer. If you want the latest in technology, this is our first LTE Advanced router and you will be amazed at the speed and performance.
The router is recommend for anyone that wants the latest and best in technology since this model supports all bands in North America and Europe and will work on all providers including Verizon, Sprint, AT&T, T-Mobile, Bell, Rogers, Telus and much more. Check the LTE bands if you want to use this elsewhere around the world and not sure if it is compatible. Note that Sprint is not supported as of yet but will soon be after it has been authorized by the Sprint labs so if you are looking to use this with Sprint, please call us first before purchase. Verizon and other providers will work fine.
The MOFI4500-4GXeLTE-SIM4 is a high performance mission critical enterprise rugged metal router with a cellular embedded LTE Advanced (LTE 2) modem that supports LTE bands B1, B2, B4, B5, B7, B8, B12 & B38 made for businesses or customers that want the best signal reception and speed from all provider in Canada and many in USA and around the world Since this router has band 12, customers using the new 700Mhz frequency will get the best performance.
This module also supports carrier aggregation which means you will get the fastest speeds possible.
For customers in UK, this model should support all the frequency you would need. Double check to verify what you need before purchase.
With a compact wall mountable design, the MOFI4500-4GXeLTE-SIM4 is what installers asked for in a rugged metal enclosure made to work in a 24/7 environment. Business software includes Robust Fail Over, OpenVPN Server, IP Sec, Remote Cloud Management Interface, Multi WAN, Advance Bandwidth/Speed Controls plus many more features including the ability to obtain a public static IP address on any provider direct from Mofi Network called Mofi Cloud.
Made to work for M2M applications, the MOFI4500-4GXeLTE-SIM4 router packs a powerful punch with its 2 x 5dBi wifi external antennas that is able to push the wifi signal as far as possible while maintaining the fastest speeds. Also includes 2 x 5dBi 3G/4G/LTE external antennas for the cellular signal that is able to get the strongest signal reception possible. Simply put your sim card in the side of the router set your wifi password and you are ready to rock. You must have an active service plan from your provider to use.
Advanced Wireless Security
The MOFI4500-4GXeLTE-SIM4 creates a secure Wi-Fi® network by supporting the latest wireless security features to prevent unauthorized access.  It supports many security options including 64/128-bit WEP, WPA, and WPA2 + more commercial grade security options to ensure that you will be able to secure your Wi-Fi network, regardless of your client devices.  In addition, the 3G/4G/LTE mobile router utilizes dual active firewalls (SPI and NAT) to prevent potential attacks from across the Internet.
Easy to install and Use
Simply insert your sim card in the side and run the wizard to set up your configuration you require, such as wifi name, password and provider you want to use. If you want to monitor bandwidth use, slow down the internet, create multiple wifi networks, obtain a static public IP address and more, all that is needed is a few clicks. For those that use the router in a critical situation, enable the MOFI Watchdog system that will reboot the router and send alerts if any issue is detected or just want a heart beat signal from the router at a selected interval.

USB + SD Card Storage Server
By connecting a USB stick/USB Hard Drive or an Micro SD memory card in the micro SD card slot, you can have access to all files on any device connected to the router.   This is great for anyone who wants access to their music, video files or anything else on their tablet pc. This feature is also very useful for someone who wants to use the router as a storage server.

MAIN FEATURES
Built in 3G/4G/LTE Cellular Embedded Modem with multiple LTE bands that supports LTE, xLTE and LTE2 (LTE Advanced)
Carrier Aggregation support to get the fastest speeds possible (up to 300Mbps download and 50 Mb/s upload using latest cat 6 module)
Band 12 support for T-Mobile customers looking to get the best coverage possible using the new 700MHz band
Support all Verizon frequencies including the xLTE frequency for the fastest connection
Ability to take a USB modem and share the internet connection
Leaders in compatibility with 3G/4G/LTE internet modems around the world
Advanced bandwidth monitoring, speed, bandwidth limits and restriction options
Wall mountable small rugged metal design great for RV's, ATMs, Kiosks, Buses, Taxi Cabs & many other applications that require a stable internet connection with watchdog mission critical performance
Remote Central Fleet Management Cloud Interface that works on private IP as well
Wireless Bride/Repeater mode to extend your wireless range and/or have the ability to use an Ethernet connection with any wifi signal including those from a hotspot device
Mofi to Mofi VPN mode to allow a secure encrypted connection between offices.
Ability to assign a static public IP address for any device that requires one (many providers do not give you a public IP address and you will need this for your DVR or anything that you need a direct connection from the outside.
Android & iPhone USB Tethering Compatible (Plug in your Android phone via USB port to enable USB Tethering)
Up to 7 Unique SSID/Networks with full control including Guest accounts
MOFI Ad Blocker/Parental control built in to prevent annoying pop ups and increase the speed of your online experience. 
Full bandwidth monitoring where you can view the usage of every device connected and have ability to limit bandwidth/speed and other advance functions
Parental screen to set automatic limit or access by time on any device connected
Video games optimized mode for best online gaming experience including auto port forwarding for all Xbox, PlayStation and more.
Super Fast (wireless speeds up to 300Mb/s full N speeds) up to 1000 ft range
Virtual Private Network (VPN) + OPENSWAN IPSec and OpenVPN Support
Multi-Wan with fail safe (if one connection fails, can set to auto connect to another)
WiFi Fail Over (great for boater or anyone that gets free wifi and only use 4G/LTE when not in range)
Fail Safe Boot Loader than can restore router on bad flash or failed firmware update
USB/Hard Drive/Micro USB Storage Server to share your files over the network
USB Print Server to allow a regular USB inkjet printer become a network printer
Full Advance Quality of Service (QOS Support)
Detachable 7 inch 5dBi antennas allowing flexible gain performance antennas both wifi and 4G/LTE
Dynamic DNS full support including customized option
True DMZ not Pseudo DMZ Zone
True IP-Pass-Through
VPN Services & Termination - Device to Cisco, Linux, Juniper IPSec, L2TP & more
Standalone VPN & DHCP Server
Free Toll Free Technical Support and many more features included that is not listed here
Custom firmware solution for customers requiring multiple units with included Cloud Management
Frequency Bands: 
LTE Band B1 (2100MHz) 
LTE Band B2 (1900MHz) 
LTE Band B3 (1800MHz) 
LTE Band B4 - AWS (1700MHz) 
LTE Band B5 (850MHz) 
LTE Band B7 (2600MHz) 
LTE Band B8 (900MHz) 
LTE Band B12 (700MHz) (NEW T-MOBILE BAND) 
LTE Band B13 (700MHz) 
LTE Band B17 (700MHz) 
LTE Band B20 (800MHz) 
LTE Band B25 (1900MHz) 
LTE Band B26 (850MHz) 
LTE Band B29 (700MHz) 
LTE Band B30 (2300MHz) 
LTE Band B41 (TD 2500MHz) B1, B2, B3, B4, B5, B8 UMTS (850/900/1700/1900/2100 MHz) GSM/GPRS/EDGE (850/900/1800/1900 MHz)