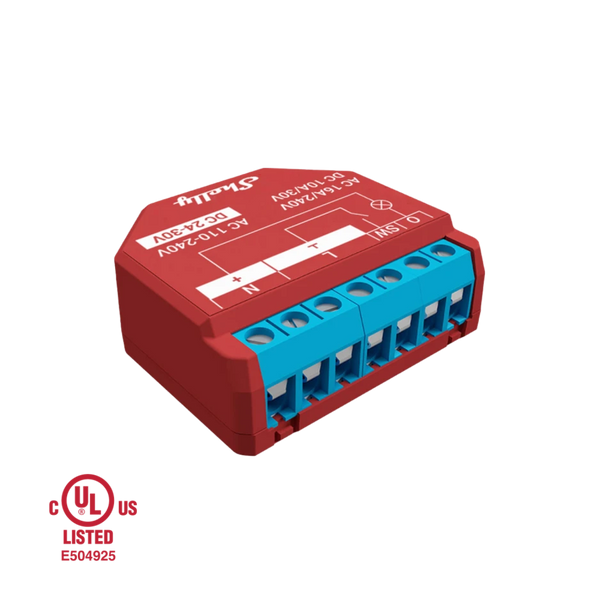 Next generation appliances control with precise power metering
From automatization of the lights to electrical appliances control, Shelly Plus 1PM provides precise power metering and free cloud data storage. Small enough to fit behind every wall switch or wall socket, Shelly 1PM is retrofit and can be installed in less than 10 minutes.
Shelly Plus1 PM UL adds power metering to the PLUS 1 UL so you can not only control but also monitor the power consumption of the controlled device.
Plus 1 PM UL is a compact WiFi-operated smart relay with single built-in dry contact input.  Shelly Plus 1 UL can be powered by and can control a wide range of low or high-voltage devices including home appliances, lights, security systems, sprinklers, LED strips, garage doors, etc.
The dry contact input can be used to monitor a contact closure, or connected to a switch to control the relay output.
Shelly Plus 1 PM UL has a built-in microprocessor and web server to allow it to be controlled and monitored by a smartphone, tablet, or home automation system.  It can be used on its own with free apps using the Shelly Cloud or integrated with a smart home system.
The built-in processor allows it to support scenes when combined with other Shelly devices, as well as built-in scheduling based on time of day or sunrise/sunset.
Shelly devices work with Google Home and Alexa voice assistants.
The plus generation features built-in Bluetooth to provide faster and easier enrollment compared to generation one devices.
Shelly works on its own or with MQTT, SmartThings, Home Assistant, HomeSeer, Homey, Hubitat, OpenHAB, and REST integration.
Specifications
POWER
Power supply AC
110-230V ±10%, 50/60Hz
Maximum load
15A
Power supply DC
24 – 30V
Channels
1 Channel
SPECIAL FUNCTIONS
Dry contacts
No
Roller shutter mode
No
Device temperature protection
Yes
Overload protection
Yes
Power measurement
Yes
Working without a neutral line
No
FEATURES
HTTP/HTTPS webhooks
Yes
Custom scripts (mJs)
Yes
Operational temperature
-20°C to + 40 °C
Device power consumption
< 1 W
Intelligent On/Off
Yes
Local and remote control
Yes
Sunrise/Sunset
Yes
Weekly Schedule
Yes
UL Listed option
No
CONNECTIVITY
Wireless
Yes
Wi-Fi Protocol
802.11 b/g/n
Wi-Fi Radio frequency
2412 - 2484 MHz
Wi-Fi Radio signal power
1mW
Wi-Fi Range
up to 50 m outdoors and up to 30 m indoors (depending on the building materials)
Bluetooth
Yes
DIMENSIONS
Size
42 x 38 x 17mm