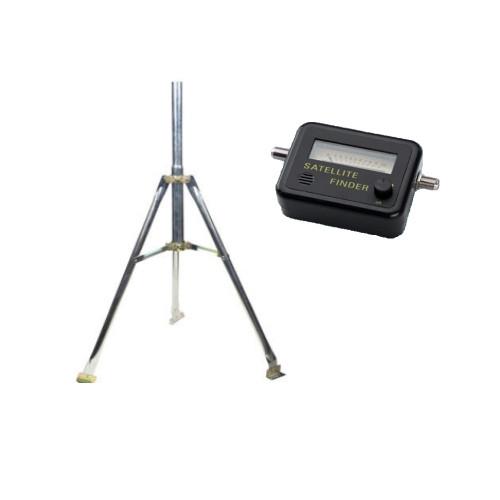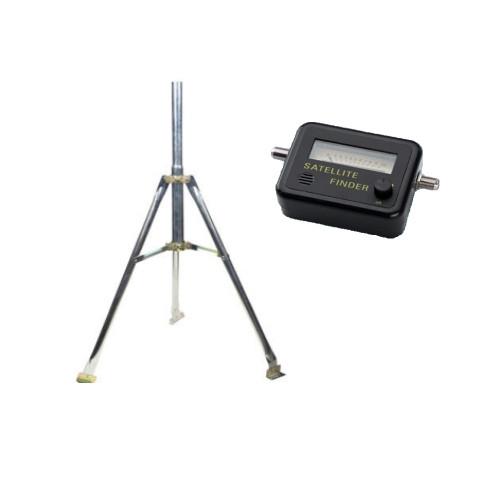 DESCRIPTION
This 3 ft. satellite dish tripod is nice and compact for travel and folds up for convenient storage. RVers love them, and apartment dwellers keep their landlords happy with them. These tripods are heavy duty and high quality.
Take your satellite system on the road with you. This tripod is perfect for outdoor events!! It has 3 holes in each foot for secure mounting.
 It comes with 24 pole, 1.76 OD on one end and 2" OD at the opposite end (Universal Post Kit)
This satellite finder requires no batteries because it is powered by the receiver. It has a built-in light and audio tone indicator. This tool is a must for RV enthusiasts who take a satellite system with them on the road. Simply attach this affordable device between your dish and your receiver, turn on your system and aling your satellite dish until the meter indicates optimum signal strength. Perfect for new installations or peaking existing systems as required.
SPECIFICATIONS
Frequency range: 950-2150 MHz.
 Input level max: 11dB Gain.
 Supply voltage: 13-18V DC.
 Input level min: - 40dBm.
 Built-in light for night dish adjustment.
 Audible tune-in signal.
 75 Ohms input/output impedance.