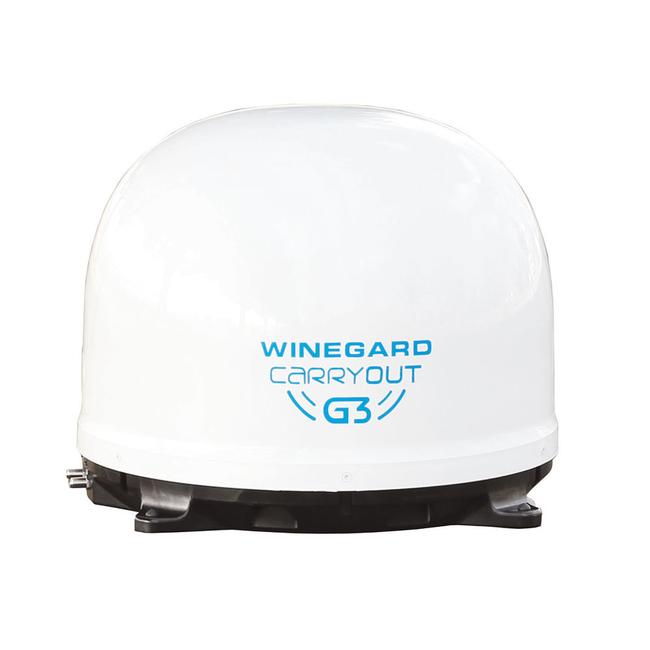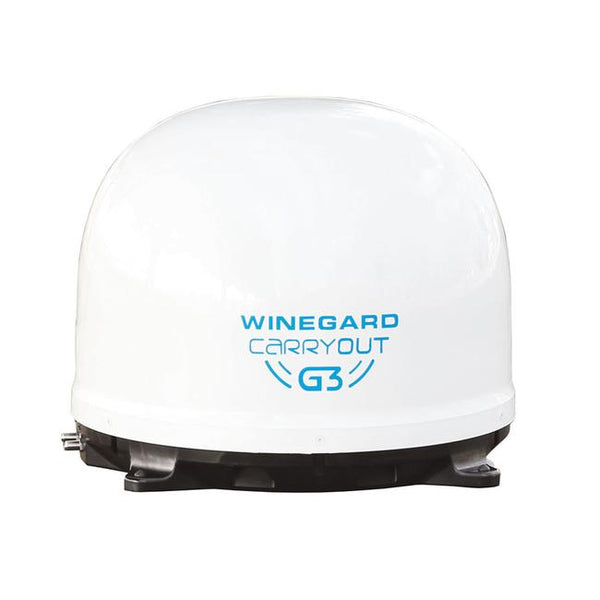 Carryout® G3 Automatic Portable Satellite TV Antenna
The Carryout G3 receives DIRECTV, DISH and Bell TV programming for the ultimate in provider versatility. Ultra Small Portable - This sleek, compact portable is ultra lightweight, requiring minimal space.
Perfect for the on-the-go lifestyle! Simple to Use - 100% automatic. Includes Power Inserter for Increased Accessibility - Powered over coax through power inserter, so no 12V power needed. Easily switch providers at power inserter; no need to remove antenna dome.
Features and Benefits 
Versatile
1.Receives either DIRECTV, DISH or Bell TV for maximum provider versatility
2.1 TV (one receiver)
Points to either 101° or 119° (DIRECTV) or 110°, 119° or 129° (DISH) or 91° or 82° (Bell TV)
Channel changes will prompt antenna to point to required orbita
3. 2 TVs (a receiver on each TV)
The system has two coaxial outputs to allow for two-receiver or dual-tuner DVR usage.
Points to either 101° or 119° (DIRECTV) or 110°, 119° or 129° (DISH) or 91° or 82° (Bell TV)
4.Portable or Roof Mount
With the unique ability to later convert the portable G3 to a permanent roof mounted antenna, the G3 saves the consumer money from having to buy a new antenna and creates revenue for the dealer with the installation. Plus, dealers have less models to inventory while still offering customers antenna options. RK-4000 Roof Mount Kit sold separately. Additional wiring is required unless vehicle is prewired for a Winegard satellite TV antenna. For RV only. Not for permanent installation on trucks.
Ultra Small Portable Antenna
Dimensions: 16.8" diameter, 13" height
Weight: 7.24 pounds
Easy grip handle included for effortless carrying
Fast Setup
1.Fully Automatic
Automatically finds satellite orbital locations

Compact size requires less acquisition time
Power Inserter
1.Fast Setup with Power Inserter
No 12V power needed; powered through coax through power inserter

Easily switch providers at the power inserter; no need to remove the antenna dome
Pack-out Contents
25 foot RG-6 coaxial cable
3 foot RG-6 coaxial cable
Power inserter
User manual, including warranty information (Winegard's website has videos and online tutorials for the Carryout G3)
Programming
The Carryout G3 is compatible with DIRECTV (SD only), DISH (SD and HD) and Bell TV (SD and HD) programming
Winegard provides receivers and activation for DIRECTV two-year contracts and DISH Pay-as-you-go programming (sold separately)
Winegard receiver hotline 1-866-609-9374 available Monday-Friday 7:30 am – 5:30 pm CST